1. Do all dogs have to be ABKC registered to enter the show ring?
Yes, all dogs must be ABKC registered. Temporary registration is available on site for $10.00 if your dog is not ABKC registered.
2. What must my dog wear in the show ring?
Show leads or chokers, No Chain leads, no spikes, no harness, no muzzle.
3. What time is registration? What time does the show start? Show 1 is PRE REGISTRATION ONLY (no exceptions). Show 1 will begin at 10am. Show 2 registration will end at 11:30 and 3 registrations will end at 1:30pm, if you are not in line by 130pm you will not be able to register for show 3.
4. How much to enter the event? $15/per person How much is parking? Free How much for kids? Kids with adults free
5. Will there be food and drinks at the event? Yes, world class catering company Proof of Pudding will be offering BBQ sandwiches, Grilled Chicken Sandwiches, Hot Dogs, Hamburgers, Beer, Wine, and Frozen lemonade.
6. Is the show kid friendly? Yes, and kids enter free with an adult.
7. Will there be a fun show? No, this is an ABKC only sanctioned event.
8. Will there be weight pull or protection training? No, this is conformation show only.
9. What should I bring? Bring you own set up, there will be no set ups aloud under the arena. This area is for paid vendors and show ring only. Bring tents, banners, tables, chairs, crates, blankets, family and friends. Food available on site, no grills, no coolers.
10. Is there a Vendor Fee? Any kennel or vendor selling products will be required to pay a $25.00 fee in addition to there $15.00 entry fee (as required by the Georgia International Horse Park)
11. What is Canine Good Citizen Testing? The Canine Good Citizen Program stresses responsible pet ownership for owners and rewards dogs with good manners at home and in the community.The 10 step test goes over accepting a friendly stranger, sitting politely for petting, healthy appearance and grooming, walking well on a leash, walking through crowds, staying in place, knowing basic commands, calm reactions to other animals and people, and supervised separation. Dogs must not show anxiety and aggression during the test. We know most American Bullies can pass this test, so here is your chance to give it a try! If you have any questions, please contact Rai at TailRace@bellsouth.net or 270-275-0001.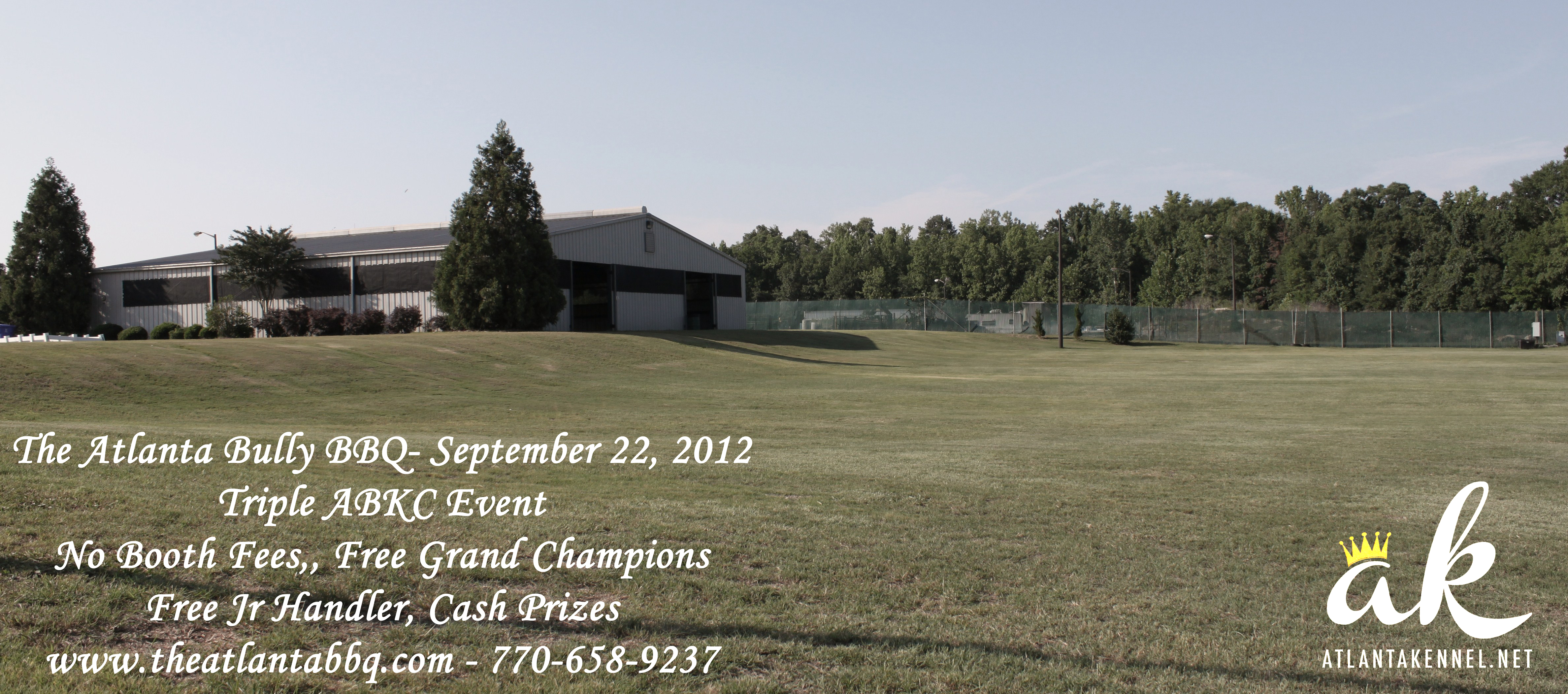 Attending Kennels: